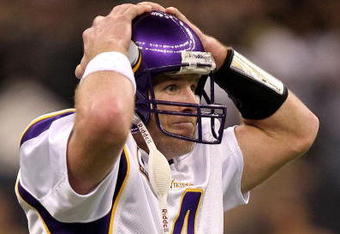 Stop me if you've heard this before.
"With under 2 minutes to go in the game, Brett Favre threw a costly interception leading to his team's defeat."
!! If I only had a dollar for every time future Hall of Fame Quarterback Brett Favre snatched defeat from the jaws of victory with a bad interception in crunch time, well, I'd have the type of money Brett signed with the Minnesota Vikings for at the beginning of this year. Last night, the old man did it AGAIN , with a chance to tie or even win a crucial Monday Night Football matchup against the New York Jets, Favre reverted to throwing to people dressed in a different uniform , and costing the Vikings an opportunity for a much needed victory.
Look
(copyright Barack Obama)
, nobody with any credible amount of football knowledge will argue against the fact that Brett Favre is one of the greatest QBs that the NFL has ever seen and he holds records that will likely never ever be touched as the old man continues to suit up at age 41. However, for a QB as accomplished and as experienced as there has ever been, Favre throws WAAAAAAAAAAAAAAAAY too many interceptions at crucial moments in a game, that unfortunately will be a part of his legacy when he hangs up his cleats and quits playing on his 75th birthday. Whether in a Green Bay Packers, New York Jets, or Minnesota Vikings uniform, we can all recollect a costly interception thrown at the most inopportune of times that led to his team's defeat. Last year, a crucial interception towards the end of regulation of the Minnesota vs New Orleans NFC Championship game, paved the way for the WHO DAT NATION to get to and ultimately win the Super Bowl.
(I guess some good did come out of that costly pick)
Brett has and always has had a gunslinger's mentality that he WILL make something out of nothing and that has brought mega success for his teams throughout the years. However, that tendency can often come back to bite him in the arse when it's often best to opt for the safe conservative play. Prior to last night's game ending interception, Favre had rallied the Vikings back from a previously uninspiring performance with 3 perfectly thrown TD passes in the 2nd half to give them a shot at the victory. It was that sort of play that makes him one of the all time greats. However, as is far too often the case, he ended his team's chances with a beautifully thrown TD pass to the WRONG TEAM. Once again, the old gunslinger GAVE his team and their fans hope of an exhilarating victory but in an instant, TOOK away that hope with a game clinching interception. It is unfortunately the price of signing the old gunslinger; he giveth... then he taketh away !!